Show up. Get knocked down. Get up. Fall in love. Experience heartbreak. Take on the challenge. Fail. Get back up. Make good decisions. Realise they were bad decisions. Make new decisions. Don't shrink from life because you've experienced a few tough patches. Life isn't about avoiding the bruises, the scrapes and scars. These are things that proved we showed up and after all isn't that what life's truly about?
Project because we believe that everyone who comes through the doors is looking for personal development or improvement in some way. Whether it be through a development course or program, a seminar or through setting an audacious goal like climbing Mt Kilimanjaro, crossing the Kokoda Track or one of our other adventures. Maybe they just want to improve their day to day health and fitness to live a more active and involved life with their family and friends.
180 is reference to 180 degrees. A complete turn around. Even people that are successful or doing well in one area still look for change in another and that's something we specialise in.
We Build Better Humans. Physically, Mentally and Emotionally.
Our Adventure Training & Fitness Centre is so much more than a gym. This is a holistic centre to run Mindset Seminars and Events, Personal Development Courses, High Performance Coaching, Group Training and Personal Training and prepare people for adventure through Adventure Professionals.
Our team are highly qualified coaches and trainers, specialised former soldiers, professional athletes and adventurers. We're people that walk our talk and actively push ourselves to set and achieve goals. Our focus is making our 'gym' a positive and inspiring place for you feel at home from the moment you walk through the door.
At Project 180 you don't join, you belong. You're a part of a family.
Project 180 is headed by Glenn Azar and brings together a team of highly professional coaches, athletes, adventure leaders and support staff with the aim of creating an environment that helps you to succeed in all areas of your life.
We are passionate about Health & Fitness, Personal Development and Adventure. For many years we have not only worked in these fields but have actively pushed ourselves and achieved in these areas personally.
Over the odd coffee and many deep conversations we discussed the gap between physical health and mindset that so many gyms didn't seem to address. We worked in places where the standard a trainer expected of you wasn't the standard the trainer themselves would maintain and this didn't sit well with us. We knew if we were to truly get the best out of you then we had to set and maintain that standard within ourselves and our actions.
We also knew there was more to life than a bikini body or six pack abs. Our clients and friends were business people, professionals, mothers and fathers, partners and wanted to move better, look better, feel better and have more energy in their day to day lives with the aim of being able to enjoy their life and live it to the fullest not sitting around on the couch exhausted at the end of every day.
We felt that we could create a facility which delivered on the promise of Building Better Humans. In fact we believed that we not only could create it but we should create it. So we did.
We welcome you to become a part of our family. You don't just join Project 180, you're more than a member here, you belong here.
We build others up. We accept challenges. We look to get outside our comfort zone. We seek mentors and to always be learning. We champion others. We believe in the impossible and create the possible. We are your coach, your mentor, your friend and the person that pushes you do be better.
We are Project 180.
This is full access to all classes in the gym and access to use the gym anytime outside of the classes. Our gym is your gym. 
Secondary and Primary School Students have an affordable membership option to build their health & fitness as a tool to relieve stress and build academic success outside of the classroom.
The family membership gives full access to two adults and two children to all classes in the gym and access to use the gym anytime outside of the classes. Our gym is your gym. 
Perhaps you live out of town or getting to the gym isn't always easy. This can be a great place to start. 10 sessions. No expiry. Use them for any class you like.
These sessions will depend on which trainer you would like to work with and what their availability is. All trainers have a slightly different price structure depending on their experience/expertise and the demand for their time.
These sessions are perfect to create that shift you need to achieve more in your personal and professional life. We specialise in getting people over that hump or through that wall that's stopping you achieve your most important goals.
From an Amazing Race around Brisbane or jumping off Kangaroo Point Cliffs through to boardroom and conference break out sessions or key notes these packages are designed to shake things up and get you and your team working more efficiently, communicating better and driving towards the common goals of your business, sporting or community team.
What if I'm not fit enough to train here?
At Project 180 our trainers and coaches specialise in being able to scale all workouts to ensure you get the maximum benefit based off your current fitness level.
Can I train outside of the hours listed?
The facility opens at 5am and closes at 9pm however we're often here before and after. If you want to train outside those hours it would be best to discuss with us and we can let you know if we will be here. No guarantee but it never hurts to ask.
What if I can't make it to a class?
You can come in and use the facility outside of the class time to complete your session on your own. Any Personal Training or Coaching sessions will take priority over equipment but there's plenty to go around so we're confident you will get a full uninterrupted workout in.
Do you offer discounts for students?
Yes. We do offer limited places for student membership. University or School Students. Just produce your student ID and we will hook you up.
What style of training do you offer?
At Project 180 we embrace functional training through the use of boxing, bodyweight exercises and free weights. We're constantly looking for ways to move and improve our body movement patterns and we don't believe this is best achieved by machines. We believe we can achieve this through kettlebells, boxing, Olympic lifting and bodyweight training.
Are your coaches and trainers registered?
Yes. All trainers and coaches are fully registered, qualified and insured in their relevant disciplines and fields.
What if I have an injury and can't participate fully?
All sessions will scalable options for anyone who can't participate fully due to injury. We believe the worst thing you can do when you have an injury is to rest completely. Your body and mind need you to move. Activity creates energy and whilst you have an injury to one part of your body the rest of your body can be moved and exercises in some form or other.
Do I need to sign a contract?
We do not have contracts at Project 180. We have medical forms to fill out of course. These are so we understand you and your current state of health to ensure we have the most suitable program for you.
Can I pay cash as I go?
We're happy to discuss cash in certain instances however all memberships are via direct debit. These can be cancelled or paused at any time with notice. We believe membership paid automatically creates some level of commitment as opposed to staying in bed on Monday and Tuesday then deciding not to pay for the week so 'I'll just take the week off.' We wouldn't be doing the best thing for you if we allowed this mindset or excuse building to creep in.
I've heard you have capped your membership numbers. Is this true?
Yes. To ensure that everyone gets the most benefit possible out of our facility we have capped memberships. Once we hit that cap there will be a waitlist but we will never go over our cap. The integrity of what we deliver and how we deliver is more important than trying to squeeze more people into the facility for the sake of a few dollars.
Can I choose which trainer or coach I want to work with?
To some extent yes. Group classes will have an allocated trainer and these will rotate on a regular basis to ensure we mix up the training styles. These will be noted inside the facility in advance so you can see who is running which classes. Personal sessions will depend on the availability of the trainer.
Can I bring a friend or training partner?
You can bring someone to train with you. They will be subject to the casual training fee. These will depend on membership numbers. Once we reach our membership level then casual attendance will be the first thing we drop off. Our commitment to our members will be our first priority.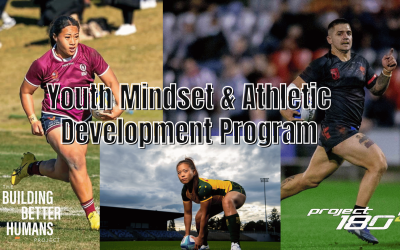 One of the most important things we can work on for any athlete is their MINDSET. It's a true 1% er that helps athletes go from good to great. Every next level you get selected for, is going to require a new level from you. What area's can you improve? Where can you...

22 Maud Street Newstead Q 4006
M-F 5am - 10:30am  and 4pm - 7:30pm
Saturday 6am - 9am