When I made the decision to open a gym in Brisbane it wasn't something I did lightly. I had previously owned a gym in Toowoomba which I started from scratch and developed into a true family facility, which was well regarded and very much sought after as the place to be if you wanted training, inspiration and a great vibe to keep your motivation high.
We never aimed to be fancy. We aimed to be effective.
Check out this video of my original gym in Toowoomba and you just might be able to see some similarities to Project 180.
My focus this time around was to build what I knew worked in Toowoomba but this time in Brisbane. This time I had new experiences, I was more evolved in my own journey of providing personal development. I had started the Building Better Humans Project Podcast and our adventure business – Adventure Professionals – has grown significantly.
One thing I have always know is that our environment matters when it comes to success and happiness in any area of life. If we're surrounded by negative people we have no option but to see the down side of life because that's what we talk about, ruminate over and focus on.
Flip that and surround yourself with people that believe in themselves, that believe in you, that believe in possibilities and you will see the upside to life because those are the things you're tribe will think about, talk about and be about.
Energy is contagious.
With that in mind Trica and I decided to run a monthly event – a group training session – which is effectively a chance to sweat and connect in order to educate and inspire as many people as possible.
Primarily we wanted to offer some extra value to our community but also to their community, their family and friends, as well.
Last Saturday we had the privilege of having Kate Hilliard join us. Kate is a coach and sponsored athlete at 98 Gym in Sydney. A gym we are affiliated with and who's programming is our primary program here at Project 180.
Kate holds world records in the Ski-Erg 500m, 1000, 2000m and 5000m events. She's also an ocean swimmer and tends to dabble in almost any event that involves pushing herself physically and mentally. Getting out of her comfort zone is no problem for Kate.
I did a podcast earlier this year with Kate which you can listen to by clicking the picture below.
On Saturday Kate chatted to everyone before the session about what FYF and the 98 Gym training philosophy is all about. We then split into four teams with Kate, Trica, Ziah, Reuben and myself and completed a workout of:
Ski-Erg x 3,000m
Box Jump Overs x 300 reps
KB Swings 32/24kg x 300 reps
Row x 3,000m
Wall Balls x 3,000m
Synchro Burpees x 150 reps (two people working a time and equals one rep)
Ski-Erg 3,000m
The vibe was amazing. The energy in the room was through the roof and the way everyone pushed themselves was so much fun to watch.
You see people do so much more work than they would normally believe they're capable of. You can see it. Their perceived limits are smashed and they get to walk out of these sessions with a very much redefined idea of what's possible for them.
That alone makes the whole day worth while.
At the end of the session was a chat from Kate and a chance for everyone to ask questions around training, nutrition, mindset and everything in between. Kate was incredible with her time and her energy is most certainly contagious. The feedback from everyone was incredibly positive and already we're looking forward to our next event.
Below are a few pictures with thanks to Jimmy from Apex Media Group.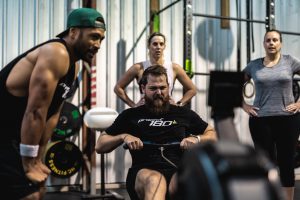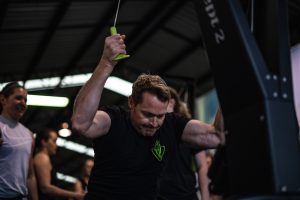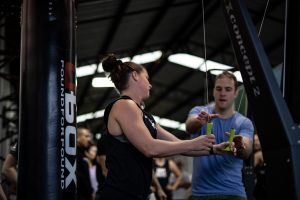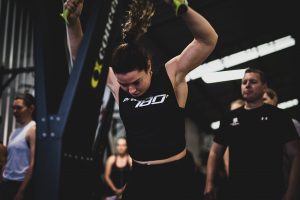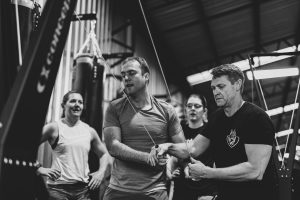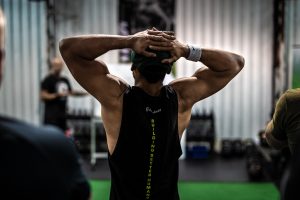 If you'd like to join into the next FYF event just keep an eye on our social media – Instagram and Facebook – or log into the Project 180 App (available in the Apple App Store or the Google Play Store). You don't have to be a member to come along. You can purchase a single session pass and come along. I promise it'll be worth your time and effort.
Thanks again to Kate for taking the time to fly up from Sydney and hang out with us. I am sure we will get her up again in 2020.
Thanks also to everyone who came along and participated or even just supported everyone.
Cheers,


E: glenn@180.net.au
M: 0438 364106