Many of our members have asked me if we will have a Christmas Party and being our first year in business I hadn't given it much thought. To be honest the year flew along and we only just put our heads up and there's old Saint Nick coming at us like a prime Shane Webcke.
I gave this some real thought.
Should we go out for dinner?
Maybe head to a park and light up the BBQ?
Get family and friends together so your people knew what our community, your Project 180 community, was all about?
Maybe we do a session and then have a BBQ brekky?
To be honest, all of these things made sense to me but when I look at who we are and I ask "What is the essence of Project 180?" the answer is simple, it's written on the building. Our essence is: Building Better Humans. Always has been and always will be our main focus.
Then my thoughts switched to all the people doing it tough this year both internationally and within our communities. I know we can solve all the problems. I know we can snap our fingers and change the world. But does that mean we shouldn't at least try? Does that mean we shouldn't do our bit?
NO.
So I have decided to have a fun fitness session which is open to the community. This means your friends, your family, your work colleagues, anyone at all.
No cost but instead I'd like to ask everyone to bring something to donate to our CHRISTMAS FITNESS APPEAL. These things will be donated to the Salvation Army Christmas Appeal.
This Christmas, we want to give hope to Australians battling tough times. Your donation means that we can offer:
shelter to people with nowhere to sleep,
gifts for kids who would otherwise get none,
hampers for people struggling to afford basic meals, and
support for those struck by disaster
We are all incredibly fortunate and at this time of year I would love for us to think of ways we can give hope to those being savaged by the drought, ravaged by bush fires or struck down by serious illness, just bad luck or a raft of other reasons that people end up homeless, destitute or without the means to buy food and also think of Christmas Gifts.
This is our community. These are our human family. We can make a difference.
Things to bring for a donation:
Gifts for children (all ages)
Non-Perishable Food Items
Toiletries
Towels, blankets, clothing
Make a financial donation directly to the Salvation Army Appeal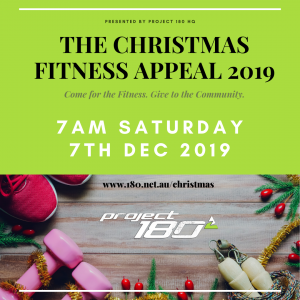 How it works: 
Saturday 7th December at 7am we will run a 45-60 minute fitness session that will be suitable and scaled for all fitness levels.
You simply turn up, bring your friends, bring your family, grab a stranger off the street.
Bring an item to donate as 'payment' for the session. If you make a financial donation through the Salvation Army link just bring a print out of that.
We get sweaty. We have fun. We feel good internally because we've helped others and we feel good because we've worked out.
Hang around and have some brekky.
Prizes:
We will have some prizes on the day including:
2 x one month Project 180 membership
1 x six month Project 180 membership
1 x Aussie 10 Peaks adventure with Adventure Professionals
8 x tickets to the Brisbane Broncos first home game of the season
5 x free PT Sessions at Project 180
Your Support:
To make this a success and do as much good as we can we really do need your support. You can make donations even if you can't get there on the day (although we'd love to see you there).
Let your family and friends know
Tell your work colleagues
Share this web link or tag your friends in our FB and Instagram posts
Other gym members and other gyms are invited
This is about our community helping our community
What if I'm not very fit?
That's ok. This is not a session designed to destroy people and beat our chests about how we made you vomit. This is about community.
We will have scaled options for all experiences and fitness levels. Injuries, lack of fitness, lack of experience or super fit and ready to rip in – I promise we will scaled for all of that.
This is about fun, this about community, this is about celebrating Christmas in our own unique way whilst helping others in the process.
If you have any questions at all please don't hesitate to get in touch with me directly: glenn@180.net.au or 0438364106
My team and I look forward to seeing you there.
Yours in health, fitness, adventure and community,


Building Better Humans